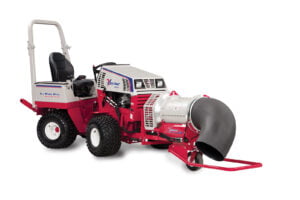 As you know, I'm all for having the right machinery to make life easier, today we will take a quick look at the Ventrac ET200 turbine blower.
I always like to find quick, easy and efficient ways to carry out a job in the garden, it looks like the Ventrac ET200 turbine blower can do just this.
I appreciate that a machine like this is far too large for many people's gardens, however, if you have a large garden or a contractor this could be a great machine.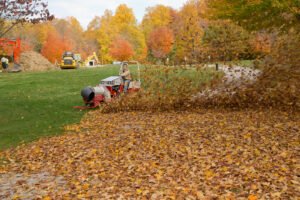 Ventrac ET200 Turbine Blower
One of the Ventrac ET200 turbine blower advantages is the fact that you have one power unit to operate multiple machines. The leaf blower attachment is just one of many attachments that we will feature in future posts.
As you can see further down on this page the ET 200 tractor turbine blower makes short work of moving leaves and debris around.
This turbine leaf blower is much quieter than the average conventional leaf blower. The ET200 tractor turbine blower can blow large volumes of air capable of moving large amounts of leaves, light snow, general debris across lawns, playing fields and car parks etc.
The nozzle can be turned around 360° making it exceptionally practical to blow leaves, the nozzle can be turned from the driver's seat. You can even drive underneath trees and aim the air chute at a particular tree to blow any loose leaves off. This really is quite a handy feature. The leaf blowers has a bumper to protect the air chute, should it knock into any obstruction.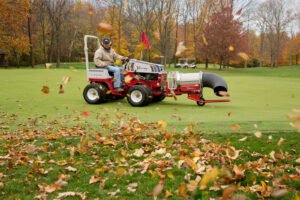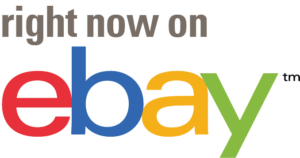 Versatile power unit
The Ventrac ET200 turbine blower is powered by a very compact and manoeuvrable articulated tractor power unit. There are four different engine models available which are all around the 30 hp mark.
I've always liked the idea of front-mounted machinery as you can easily see what you are doing. Front-mounted equipment also enables you to, for example. If you have a lawnmower attachment, you cut the grass before running over it with the tractor wheels.
Having an articulated machine makes the power unit almost the most manoeuvrable machine on the market. Combined with the front-mounted accessories this really is an efficient way to power machinery.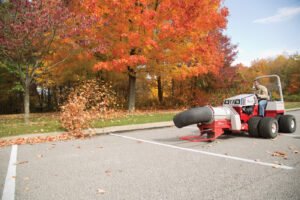 Easy Attachment
Attaching the ET200 Ventrac blower is very simple due to the Ventrac mount system. This system enables you to attach the accessory quickly and efficiently and then to move onto the next job.
To attach a machine simply drive up to the attachment, line up the hitch arms and then close the locking lever. Make sure and turn off the engine and walked to the front of your machine.
Then attach the auxiliary hydraulic hoses which power the blower rotational chute. These are colour-coded, so you cannot attach the hose is the wrong way around. Connect the 12 V electrics, these can vary from each individual attachment. Then connect the power take-off, once again this can vary slightly between the various attachments.
You Can See The Ventrac Blower Working Below
To Conclude
Over the years I have owned many various machines, most of these machines have been individual power units. I really like the idea of having a versatile power unit that powers various implements, it's also a cheaper option in the long run. One power unit, many accessories!
One of the many problems with ride-on machines is the poor manoeuvrability. However, with articulated steer and front-mounted accessories, this machine really becomes a compact power unit.
Specification
INFO
Picture
Sales Model
ET200
Full Description
ET, ET200 Turbine Blower
Product Type
Attachment
CATEGORY
Attachment Type
Blower
Front Mount
Ventrac Mount System
4000 Series Mount
DIMENSIONS
Length
76 in
Overall Height
34 in 

Nozzle down

Overall Width
27 in
Height with Nozzle up
47 in
Weight
256 lbs
GENERAL
Max Wind Speed
175 mph
Rotation
360 °
Shaft RPM
3500 RPM
Nozzle Size
12 in
Please feel free to comment below.