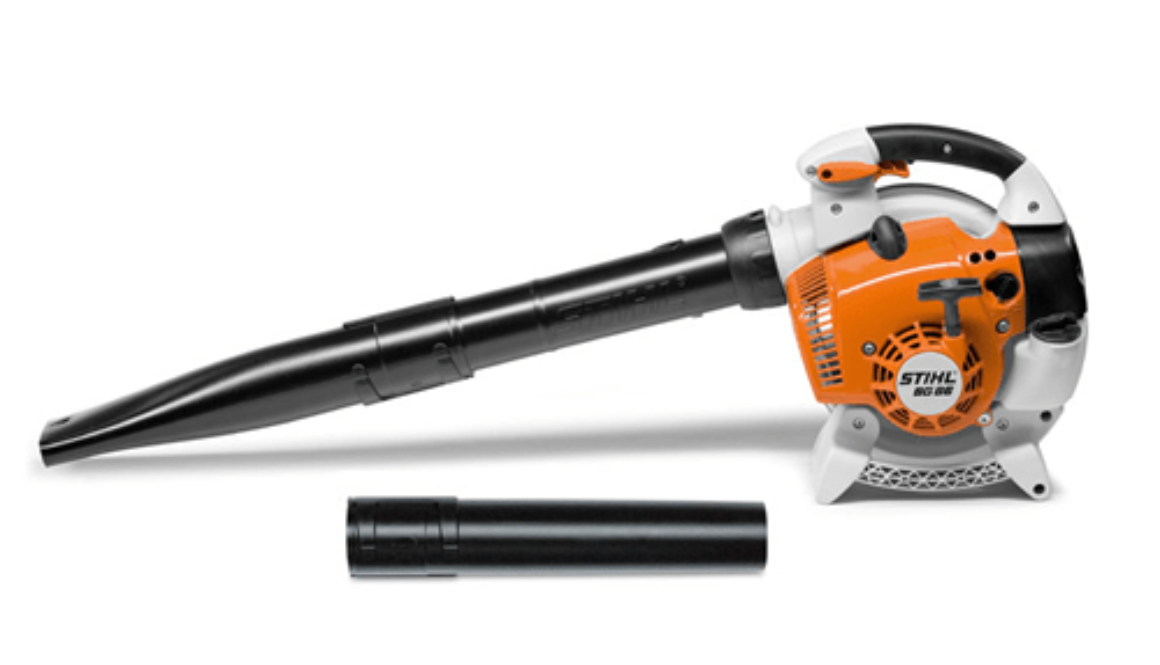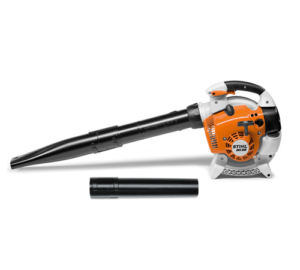 Over the next few weeks will be talking about, purchasing the right leaf blower. It's important to have the right machine for the right job, unfortunately, I see far too many people making hard work for themselves in the garden.
As well as leaf Blowers, we will be looking at garden vacuums, garden sweepers and wheeled Blowers. We have a range of machines to suit all gardeners need, whether you are a professional or just need a lightweight blower for your garden.
There is a terrific amount of budget machines on the market, some of these machines are better than others and some do genuinely offer great value for money. I always tell customers to buy the best machine that they can afford. I know of customers who purchased a quality machine 30 to 40 years ago and they are still actually using the machines today. So, although the initial price was high, they actually ended up with excellent value for money and you have the privilege of using a quality machine rather than something cheap and unpleasant to use.
There are various types of leaf blowers, vacuums and sweepers, let's take a look at the various types below. Leaf Blowers are available with two-stroke petrol engines, mains electric and rechargeable models. My preferred type are the two-stroke petrol models, which generally have more power and can be used anywhere.
Handheld Leaf Blowers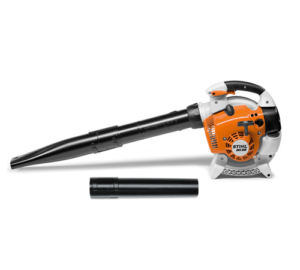 Handheld Blowers are fantastic as they are compact, can be stored easily and take up minimal space in a van or truck. I like the idea of just being able to grab one of these handheld Blowers, pull the starting cord and start blowing immediately! Often, I will just use a blower to blow down a fuel tank before refuelling or blowing a machine down, it takes a matter of seconds and saves loads of time! The traditional handheld garden blower is the machine that I use most in the garden!
The cheapest petrol blowers start at just under £100 and go up to around £320 for a quality, long-lasting Stihl handheld petrol leaf blower. Incidentally, having been an owner and user of many different Stihl blowers, I strongly recommend the Stihl BG 86 handheld petrol leaf blower. Not only for long life, but for compactness and blowing capabilities.
We have several manufacturers who produce leaf Blowers on our website. Manufacturers include Stihl, Stiga, Efco, Oleio Mac, Racing, Cobra, Chipperfield, MTD and more.
Handheld Garden Blower Vac's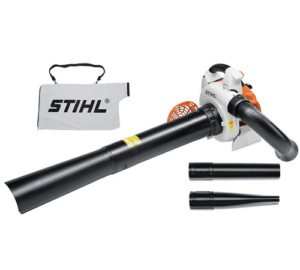 Another great innovation that many handheld leaf Blowers feature is the ability to convert the leaf blower into a vacuum and to mulch the material at the same time. This is a great feature. However, the primary use of most of these leaf blowers is to blow rather than vacuum. I have found that the vacuum feature is great for small patios, but in most instances, it is easier just to blow the material into a corner and to collect manually. Having said this, the vacuum is useful for those finishing touches where it's difficult to get a broom or collect the material manually.
Backpack Leaf Blowers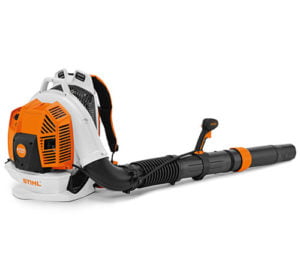 Backpack Leaf blowers in general have more power than the smaller and compact handheld leaf blowers that we looked at earlier on. Having said this, some manufacturers, like Stihl make a backpack blower with the same engine as their handheld blower. I guess this is because it's easier to carry a leaf blower on your back.
My preference for a backpack leaf blower is the two-stroke petrol models. I like the idea of being able to work anywhere and not having the issue of running out of battery power.
Battery models are becoming more common; however, I don't feel that the battery life is long enough for most users. I appreciate that battery technology is moving along very quickly, however, the batteries are not cheap to purchase. Of course, there is the added advantage of quiet running, but this comes at a cost.
Mains electric models are not available for backpack leaf blowers.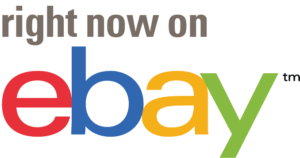 As I mentioned, I like the compactness of the handheld blowers, however, for most of my work I do use a backpack blower as I like the extra power. The extra power enables me to cover the ground much quicker, it also saves a terrific amount of time in clearing up after jobs. Any of the backpack blowers will literally lift mud and dirt off your lawn or patio.
I personally use a Stihl BR 600 Magnum backpack Leaf blower; my Stihl leaf blower is now about five years old. It's still running perfectly as these blowers are designed to last. I may upgrade to the larger Stihl BR 800 backpack Leaf blower later on.
Popular manufacturers of knapsack leaf blowers are Stihl, Tanaka, Oleo-Mac, Efco, Feider and more.
Wheeled Lawn And Leaf Vacuums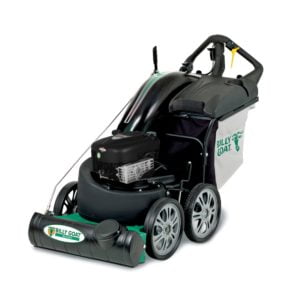 Wheeled lawn and leaf vacuums are great for clearing large areas of leaves on lawns, driveways, and car parks etc. There are models for everyone, from the keen gardener to the professional landscaper.
Wheeled lawn and leaf vacuums are really like a giant garden vacuum cleaner. Many of the models have a large suction hose that enables the machine to vacuum up leaves in awkward places.
These machines are a real time saver when it comes to the autumn and cleaning up leaves. Wheeled lawn and leaf vacuums can also be used for light litter collection.
Popular manufacturers include, Billy Goat, Feider, MTD, web and more.
Wheeled Leaf Blowers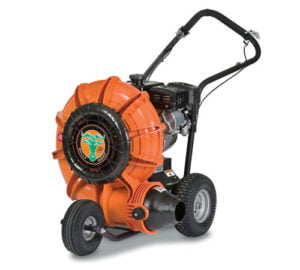 If you want to be able to blow leaves quickly, then there is nothing quicker than a wheeled leaf blower. Wheeled leaf Blowers are available in push models, wheel-driven models, stand on models and large towable models.
Wheeled leaf blowers are powered by 4 stroke petrol engines ranging from around 5 hp to 35 hp. The amount of leaves that they can be moved in a short period is remarkable.
Take a look at the video below to compare the work rate between an average backpack blower and a wheeled blower. Obviously, a backpack blower is more universal, however, a wheeled blower is great for large areas of leaves.
Wheeled Leaf Sweepers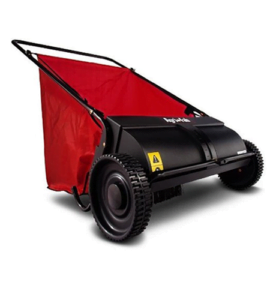 Wheeled leaf sweepers offer a great solution for leaf collection on lawns and driveways. Leaf sweepers work on a very simple rotary brush action which sweeps the leaves into a large collection bag.
Leaf sweepers are available in push models, towable models which can be towed with a lawn tractor or something similar to an ATV. Petrol-powered models are also available for those tougher jobs that require more scrubbing.
Our cheapest push leaf sweeper starts at around £120, you can see the Cobra 26 inch push lawn sweeper here.
To Conclude
As you can see there are many ways to clear leaves and garden debris. I believe that the most practical leaf solution for most gardeners are the compact handheld petrol, use anywhere, leaf blowers. My preferred being the Stihl range of petrol handheld leaf blower.
The reason the Stihl leaf blower is my preferred choice is due to the fact of owning one and using many customer's machines. I also literally see hundreds of tree surgeons using this compact blower.
It's not the cheapest blower on the market, but I do believe that it will give you many years of trouble-free service. Which in the long run results in a quality machine for an excellent price.