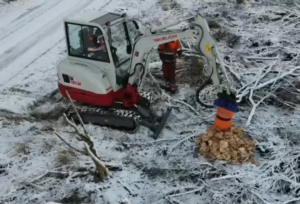 It's great to see the Dipperfox SC400 stump grinder on a mini digger. The footage is from RJ Hall engineering Ltd in Scotland, which are the UK distributor for the Dipperfox range of stump crushers. The photograph and the video were taken using a drone in Aberdeenshire on a snowy morning! The Dipperfox SC 400 stump grinder is, at present, the smallest model in the range. There are two larger models available if you are looking for a larger stump grinder.
The great thing about the Dipperfox SC400 is the fact that it can be used on much smaller machines, like the mini digger in the photograph. The Dipperfox 400 can also be used on all types of loaders and even stand on tracked loaders like the Toro Dingo, which have the advantage of being able to enter into small places. This could be especially useful in domestic gardens where space is sometimes limited. Skid steer loaders are another power unit that will power the Dipperfox 400; the skid steer requires a minimum size of one tonne and up to 2.5 tons.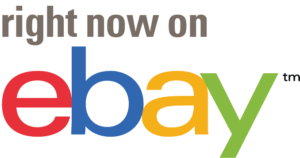 Larger Dipperfox Stump Grinders Available
If you are looking for a larger tree stump grinder or crusher, then the Dipperfox 400 model. There are two larger models available; these larger models are great for clearance jobs, although obviously, they do require extra power. You can find out more about the Dipperfox 600 here and the Dipperfox 850 here. The Dipperfox 850 stump crusher was the first and original model to be released. However, Dipperfox could see that smaller models would have huge potential for getting into those tight spaces. The Dipperfox 400 has the advantage of being able to be used on small machines that can access domestic gardens.
To Conclude
The Dipperfox stump grinders take a totally different principle to the traditional stump grinder. It's a great and clean and efficient way to remove tree stumps. Due to the low speed of the stump crusher, there's no need for debris guards. Potentially, this can also save a great deal of time. If you would like to know more about the Dipperfox stump grinders, please contact RJ Hall Engineering Ltd for the UK market or Dipperfox for the rest of the world.