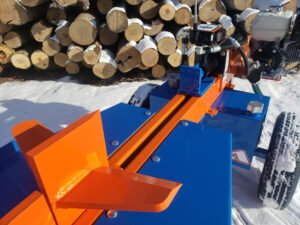 Today we are going to look at the Eastonmade Ultra Wood Splitter, this is the smallest and cheapest Eastonmade log splitter. The other day we looked at the Eastonmade 12-22 Wood Splitter midrange wood splitter.
Over the years I've come across many different machines in all shapes and sizes. I particularly like the build quality, simplicity and practicality of the Eastonmade wood splitters. The Eastonmade Ultra Wood Splitter retails at $3500, the largest machine costs around $15,000.
Eastonmade Ultra Wood Splitter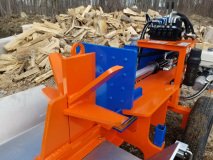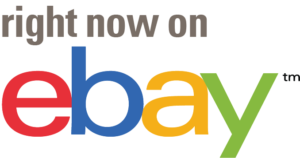 Features
Honda GX 340 overhead valve engine.
Economical petrol engine.
Road towable.
16 gallons per hour oil pump.
Four second cycle time.
Highway rated tyres.
Large 20-gallon hydraulic oil tank.
Auto retract
The Eastonmade Ultra Wood Splitter is a compact machine that has great capabilities, don't be put off by the size. With an affordable price tag this wood splitter can outperform many larger machines. This machine features a four-second cycle time, so even in just one hour, you can see that the performance is excellent. Eastonmade claim that you will not find a better performing log splitter on the market in this category.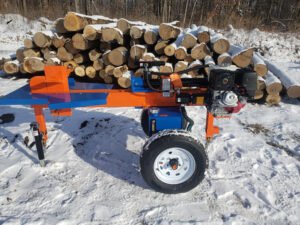 Minimum Maintenance
This is a minimum maintenance machine which is built to compete with the rack and pinion machines on the market. There are no belts, springs, bearings or gears to maintain, which to my mind, is a great plus point. The majority of machines today have a belt or belts to power them, even if it is only to drive a hydraulic pump. The problem is with belts that it's an efficient and relatively cheap way to power a machine. However, belts do need tightening on a regular basis, especially when the belt is new and is liable to stretch. This can be time-consuming depending on where the belt is located. Having a direct drive hydraulic pump is a great idea as there is no maintenance whatsoever.
Large Wedge
With a large 12 inch wedge, the Eastonmade Ultra Wood Splitter quickly splits large logs. With the powerful hydraulic ram, there's no stopping this machine.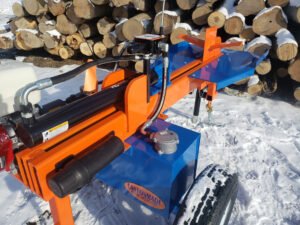 Oil Pump
The powerful 16 gallons per hour oil pump quickly forces the hydraulic ram through the largest pieces of timber. The hydraulic system is backed up by a 20-gallon hydraulic oil supply. This seems like a terrific amount of hydraulic oil for a machine of this size!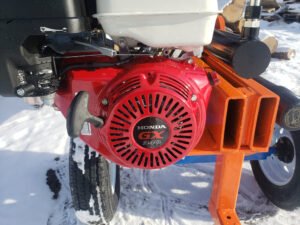 Honda Engine
The powerful Honda GX340 10.7 hp petrol engine powers the Eastonmade Ultra Wood Splitter. As I mentioned the other day, Honda engines are renowned for their reliability and smoothness and efficiency. There have been many times when I have left a Honda engine for several months, unused in the winter. After pulling the recoil start just once the Honda engines generally fire up the first time! Even after not being used for two or three years I have found that within two or three pulls, a Honda engine will start.
To Conclude
I like to purchase a machine that is well-engineered and straightforward, the Eastonmade wood splitter does exactly this! I have found in general that commercial American machines are often overengineered, which is much better than being under-engineered.
The range of Eastonmade wood splitters is only available direct from the manufacturer. This is good in some ways as it leaves out the middleman. It always worth looking on eBay to see if there are any second-hand machines available.
Certainly, looking at the videos these machines have an excellent work rate and are built to last.
Specification
Honda GX340 Engine
16gpm Pump
Straight Wedge
Auto Retract
4 Second Cycle Time
20 Gallon Hydraulic Tank
Highway Rated Tires
Weight 800lbs