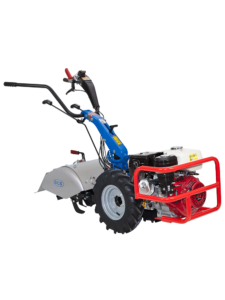 Today we are going to look at the BCS 710 Wheel Powered Rotavator, the BCS and Camon machines are often used by hire companies and professionals. Over the past few days, we have been looking at the Feider range of compact, budget ride-on mowers. As we enter into 2020, the spring season quickly comes upon us, it's good to prepare ourselves for the coming season.
The BCS 710 Wheel Powered Rotavator retails at £2320 excluding VAT, this is good value for money for a machine that can last you many years.
I have used and owned BCS Rotavators, my first wheeled powered rotavator was a BCS 745 diesel machine. I'm guessing this was back in around 1987. The BCS 745 was powered by a Lombardini diesel 14 hp engine, the width of the machine was 26 inches.
BCS has been manufacturing Rotavators for the past 30 years, the company has built up a great reputation for durability and reliability. The fact that many hire companies use BCS machines and professional landscapers, suggests something good to me. I believe that most hire companies have a BCS rotavator on their fleet, hire companies obviously have confidence in these machines.
Anyway, let's get back to the BCS 710 Wheel Powered Rotavator.
BCS 710 Wheel Powered Rotavator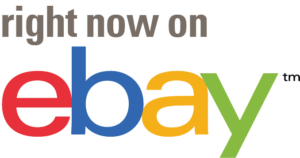 Features
Powered by Honda.
8.4 hp four-stroke petrol engine.
Three-year domestic warranty.
Two-year commercial warranty.
Adjustable handles.
Easy to operate.
An excellent range of attachments.
Popular with hire companies and professionals.
Individual control over the wheels and rotors.
There are two types of rotavator and cultivator; common garden Rotavators are normally driven by the actual digging tines. Whereas, wheel-driven machines, like the BCS, have a separate drive to the wheels with the power take-off to power the rotavator or other attachments. The wheel driven BCS machines are much easier to use and perfect for the hire market and professional landscapers. With the wheels and the rotors independently controlled, the machine is literally doing the work for you effortlessly.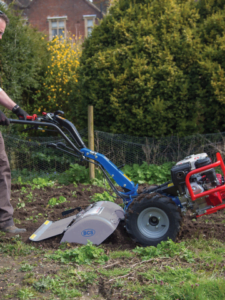 Digging Depth
The BCS 710 Rotavator has a digging depth of up to 8 inches. The digging depth can be increased each time you pass over the ground. Full digging depth can only be achieved after a few passes, obviously, conditions and types of soil will vary.
The depth is very simply controlled by a small skid that is adjusted by a lever located above the rotary tines. It's a very simple way to control the depth, but the system works, simply pull the lever up to increase the digging depth.
20 Inch (52 Cm) Width Rotavator
The 20-inch rotavator attachment, which is attached to the rear of the machine on the BCS 710 Wheel Powered Rotavator, will quickly cover the ground. With a straightforward single forward and reverse gear, you have rotavator that is ideal for allotments and gardens that will quickly get the job done!
Engine
It's always nice when you are purchasing a machine to know that it is powered by a decent engine. The BCS 710 Wheel Powered Rotavator is powered by Honda petrol GX270 overhead valve engine which develops 8.4 hp. Honda engines are favoured by many machinery operators as their preferred engine.
Over the years I have owned many machines which are powered by Honda, I have never had any problems with a Honda engine. The only spare parts I have purchased are spark plugs, air filters and fuel filters. Over the years Honda has built up an excellent reputation for reliability and economy.
There have been many occasions when I have left a Honda engine over the winter and the engines will start up at the first pull the first time of the key. Honda also has a very easy start-up system, the recoil start is literally effortless to pull.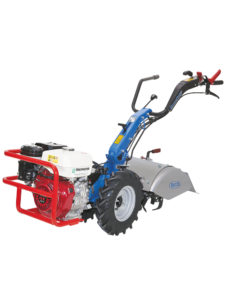 Implements
BCS offers a range of implements for their two-wheeled tractors, the BCS 710 Wheel Powered Rotavatorcan take eight different attachments. These implements range from a dozer blade, hay rake, scythe cutter bar, power/snow brush, rotavator, snowplough and trailed ridger's. The larger BCS machines offer an even wider range of attachments.
To Conclude
Having owned a BCS machine and hiring many of these machines over the years, I know that they can be an excellent workhorse. BCS offers a three-year domestic warranty and a two-year commercial warranty on their machines. To me, this offers great peace of mind to the buyer, no expenses for at least two or three years. The various attachments that are available, make your BCS rotavator a totally universal workhorse.
Specification
Engine
| | |
| --- | --- |
| Model | Honda GX270 |
| Fuel | Petrol |
| Net Power Output | 8.4hp / 6.3kW @3600rpm |
| Starting | Recoil |
| Fuel Tank Capacity | 5.3L |
| Fuel Consumption | 2.4L per hour @3600rpm |
Power Unit
Model
BCS 710
Gears
1 forward & 1 reverse
Speeds
Forward:
I: 1.05 km/hr
Reverse:
I: 2.68 km/hr
Brakes
Parking brake
Wheels
4.00 x 8 agricultural
Weight
73kg
Dimensions
Length:
170cm
Width:
64cm (at handlebars)
42cm (at wheels)
Height:
120cm
Warranty
Domestic use:
3 years
Commercial use:
2 years
Rotary Hoe
| | |
| --- | --- |
| Digging Width | 52cm (20″) |
| Digging Depth | 20cm (8″) |
| No of Tines | 16 |
| Weight | 35kg |