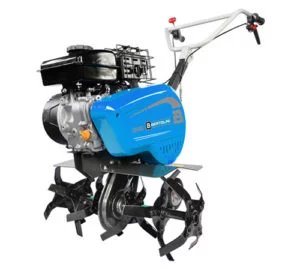 Today we are going to look at the Bertolini BT155 Petrol Rotary Tiller, yesterday we looked at the Feider FBE-5TS 5-Ton Electric Log-Splitter. Over the coming months, I would like to try and look at a variety of machinery and tools that help to make life easier in the garden.
As you know I'm always looking for ways to make heavy jobs in the garden simple. This is where a garden tiller can be really useful and take the hard work out of digging.
The Bertolini BT155 Petrol Rotary Tiller is designed for the keen gardener. This machine currently sells for £334.99 including VAT, it comes with a two-year warranty.
The Bertolini BT155 Petrol Rotary Tiller
Features
EMAK 80cc K300H OHV engine.
46 cm rotor width.
Useful adjusting working width.
Working width from 46 cm down to 22 cm.
One forward gear.
Rear transportation wheel.
Multifunction adjustable handlebars with throttle control.
Two-year warranty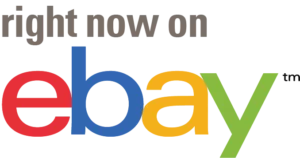 The Bertolini petrol Rotary cultivator is a tiller that is designed to loosen compacted ground and to make that perfect seedbed in the spring. The BT155 is a powerful and compact rotary tiller, with an 80 cc engine developing 2.4 hp, it has plenty of power to create that perfect spring seedbed.
Engine
The Bertolini is powered by an Emak engine which is unique to Bertolini. The overhead-valve technology and the single-speed gear help to make this 80cc tiller very efficient.
Rotors
One of the best features of the Bertolini BT155 Petrol Rotary Tiller is the adjustable working width of this machine. The maximum width of the rotors is 46 cm (18 inches), however, the working width can be reduced to 22 cm (8.5 inches). This feature not only makes the tiller a decent cultivating width, but it also makes the cultivator a great power hoe.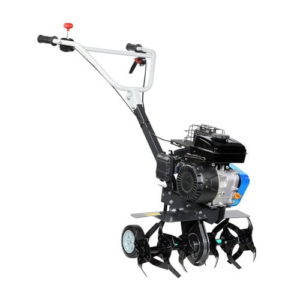 The narrow cutting width of 22 cm is small enough to get the machine along rows of vegetables to keep the area weed-free. It is small enough to use in flower and shrub borders. Using the tiller as a power hoe is a real time saver and it not only help you in the vegetable garden but in the flower garden too.
Transport wheel
The Bertolini cultivator can be moved around using the rear transport wheel.
To Conclude
The Bertolini BT155 Petrol Rotary Tiller is a small compact garden tiller that cannot only dig your vegetable garden. The tiller can hoe between vegetable plants be used to keep flower and shrub borders weed-free. The Bertolini offers handlebar adjustment for maximum operator comfort. With a two-year peace of mind warranty, you can use your Bertolini with confidence.
Specification
Engine: EMAK K300H
Engine spec: 80cc, 2.4HP
Starting: Recoil
Transmission: Chain
Working Width: 46cm/18", can be reduced to 32-22cm
Gears: 1 forward
Clutch: Belt with tensioner
Wheel: 1 Rear transport
Warranty: 2 year