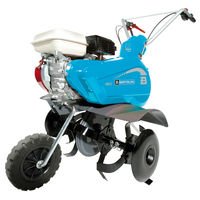 Today we are looking at the Bertolini BT195 Front-Tine Cultivator a compact domestic tiller. Yesterday we looked at the slightly smaller Bertolini BT155 Petrol Rotary Tiller. I believe the biggest plus point on the BT195 tiller over the BT155 is the considerably larger engine. This gives much more power when the machine is digging deeper.
The Bertolini BT195 Front-Tine Cultivator is made by an Italian company which produces over 250 products. The Bertolini range includes two-wheeled tractors and rotavators, flail mowers, cutter bar mowers and more.
With a generous 82 cm cutting width and a two-year warranty this garden cultivator will cover the ground confidently. Let's find out more about this Italian front tine cultivator.
Bertolini BT195 Front-Tine Cultivator
Features
A powerful and well-engineered garden cultivator.
Powerful premium-grade 4 stroke overhead valve engine.
82 cm (32 inch) working width.
Rugged steel rotors designed to give excellent digging performance.
Efficient oil bath chain drive.
Reverse gear to assist with manoeuvrability.
Convenient controls.
Adjustable handles.
Great durability.
Transport wheel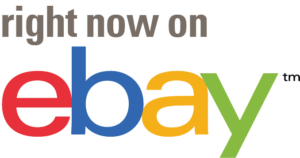 The Bertolini BT195 Front-Tine Cultivator is ideal for the keen gardener and allotment holder. The Italians seem to be good at making small machines for the horticulture industry. As I was writing last week, I have experience with the BCS two-wheeled tractors, a very popular machine indeed. The BT195 cultivator is currently on sale at £479 and offers a £90 saving. The garden cultivator is a great way of making life easier in the garden, it helps to take the hard work out of digging.
Engine
Bertolini power the cultivator with their own Emak engine, Emak is part of the Bertolini group. The Bertolini BT195 Front-Tine Cultivator as a powerful 182cc engine, which develops 5.7 hp. With the overhead valve engine technology, the K800H engine has become hugely popular over the last few years, running cleaner, caller quieter than the traditional side-valve engines. This also adds up to reduced running costs.
Chain Drive
Engine power is delivered to the tines through an oil bath chain drive system. To me, a chain drive is the most efficient way to bring power to the rotors, which also reduces maintenance time. The chain drive is situated in a thin drive case which helps to maximise digging depth capacity.
Bertolini has provided two gears, one forward and one reverse gear. This helps to make the machine slightly more manoeuvrable, especially if the machine digs itself in the ground too deeply.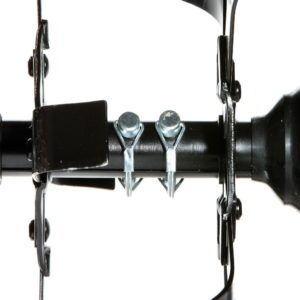 Rotors
With the heavy-duty riveted rotors and the excellent high-torque transmission system, the Bertolini BT195 Front-Tine Cultivator makes light work of digging. The rotors give a generous 82 cm (32 inch approximately) cutting width. For optimum safety the Bertolini has a handlebar-mounted rotor brake lever and a rotor guard for maximum safety.
Handling
Some cultivators can be slightly awkward to handle, however, with the reverse gear and adjustable handles bars, the Bertolini is straightforward to use.
Cultivators that are powered by the rotors and take a little bit of getting used to as they can bounce around. However, they are more than capable of doing the job in most garden and allotment situations. Wheel driven rotavators are easier to control as they have powered wheels that help to keep the machine running smoothly. However, these machines are considerably more expensive to buy and often used by contractors.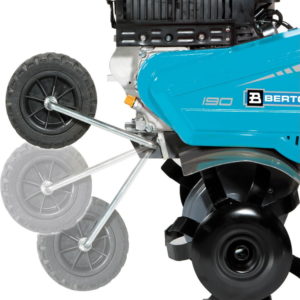 The Bertolini is constructed with a robust all-steel chassis and fitted with a reinforced transmission guard for extra protection.
To Conclude
It's amazing how many various types of cultivators are on the market today. I purchased my first garden cultivator around 37 years ago and it cost me around £600! Today you can purchase some great machines for much less, especially in today's money.
The Bertolini BT195 Front-Tine Cultivator offers a powerful engine for a machine in this category. It's also worth remembering that the machine comes with a peace of mind two-year warranty.
Specification
| | |
| --- | --- |
| Engine Make | Emak |
| Engine Model | K800H OHV |
| Engine Type | Petrol 4-stroke |
| Engine Capacity | 182cc |
| Engine Power | 5.7hp / 4.2kW |
| Engine Starting System | Recoil |
| Gears | 1 Forward / 1 Reverse |
| Transmission | Oil-Bathed Chain-Drive |
| Speed | 1st (F): 8.40km/h – 1st ( R): 3.50km/h |
| Working Width | 82cm |
| Working Depth | 31cm |
| No. of Tines | 3 x 3 |
| R.P.M. of Rotars | 1st (F): 119rpm – 1st (R): 66rpm (with Engine at 3600rpm) |
| Crop Protection Discs | Yes |
| Handles | Height Adjustable / Laterally Adjustable |
| Depth Gauge | Yes |
| Transport Wheels | Yes – 1 |
| Weight | 60kg |
| Warranty | 2 Years |