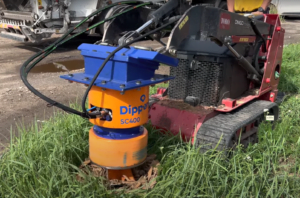 In the video below, you can see the new Dipperfox SC400 stump crusher or stump grinder in action. The Dipperfox SC400 stump crusher is the smallest model of three different models.
The first model to come out was the Dipperfox 850, a great machine and fantastic for contractors who are clearing woodlands and forestry work etc. The downside is that it requires a 14-to-30-ton excavator to power the stump crusher. Of course, this is fine for some situations, but far too large to get in the average garden!
Dipperfox then produced the smaller 600 stump crusher, which needs considerably less pair them the 850 model. The power requirement for the Dipperfox 600 stump crusher is 35 to 83 kW and a 6-to-14-ton excavator. The great thing about the 600 model is that it will fit on a standard backhoe-wheeled loader. It is also small enough to fit on a compact loader, ranging from 2 to 6 tons.
Dipperfox SC400 Stump Crusher
Finally, we are back to the Dipperfox SC400, which I believe will become very popular with contractors and hire shops etc.
The great thing about the Dipperfox stump crusher 400 is that it will fit onto a 1.5-ton mini excavator. And up to a five-ton machine. It will fit on all types of loaders, for example, Avants and similar machines.
The Dipperfox 400 will fit on a tool carrier like the Toro Dingo, as shown in the video. The minimum power requirement for a tool carrier is just one ton, and the maximum size is five tons.
To Conclude
This makes the Dipperfox 400 much more versatile than the previous models! It's not quite as compact as the Predator stump grinder that I use, but it's certainly a lot quicker and has a totally different principle. Another great advantage is the fact that you don't need to use debris guards as the machine works at relatively low revs. This is quite a timesaver, especially if you're working in built-up areas, where it takes time to move debris guards around.
For more information on the Dipperfox 400 stump crusher, for UK sales go here and for worldwide sales go here.

Specification