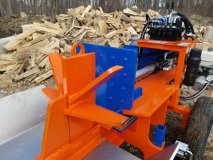 Today we are looking at the Eastonmade 12-22 Wood Splitter. This isn't your average log splitter and it may not be the type of log splitter that every homeowner can justify. This wood splitter retails for around the $10,000 mark. It's not cheap, but when you see the performance, I think you will be impressed!
We have a range of wood splitters on our website which you can see here. However, we don't have anything quite as impressive as the Eastonmade 12-22 Wood Splitter. Incidentally, this isn't Eastonmade's largest wood splitter, they manufacture larger machines, however, this mid-range model is very impressive!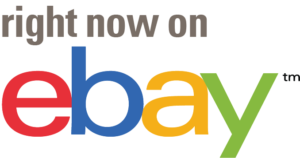 Eastonmade 12-22 Wood Splitter
Looking at the Eastonmade 12-22 Wood Splitter, this wood splitter looks like a perfectly thought out and engineered piece of machinery. The 12-22 is a mid-sized model in the Eastonmade family of log splitters. Looking at this machine great care has been taken to engineer moving parts for a long life. With a 4.9 second end to end cycle time, logs are quickly and efficiently split.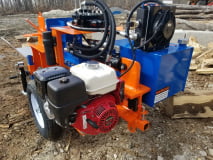 Engine
When you purchase a well-engineered piece of machinery, you need to make sure that it has a quality engine to match. Eastonmade have fitted a 12 hp Honda GX series engine with electric start, it also has a recoil start in case of emergency. To me this is always a good option, just in case, the battery becomes flat.
I have owned several machines with Honda engines, and I know that for many people, a Honda engine is the preferred choice. There are many things I like about the Honda engine, the economy, the quietness and ease of starting. There have been many occasions when I have left a Honda engine over winter for several months without starting the engine. Often, I have found that Honda engines will start after the first pull or if you are using an electric start model, at the first turn of the key!
With any engine, it's important to follow the manufacturer's instructions to ensure that your engine has a long life. Two important factors are to keep the oil clean and to keep the air filter clean. Failure to do this can bring on inefficiency and excessive engine wear. I always say that it's cheaper to change the oil regularly on an engine rather than wear expensive metal components. To blow out and clean a paper type air filter takes a couple of minutes, it's well worth spending the time to maximise efficiency.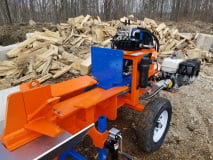 Oil pump
The oil pump is one of the most important features on this hydraulic, finely engineered wood splitter. With the powerful efficient 12 hp Honda engine coupled to a large 22 gallons per minute two-stage oil pump, which guarantees to keep things moving quickly and efficiently. The Eastonmade 12-22 Wood Splitter hydraulic pump is attached to an oil cooler, so you never have to worry about oil becoming too hot.
The oversized 25-gallon hydraulic oil tank with suction and return filters keeps the machine running smoothly. A 25-gallon oil tank seems exceptionally large on a machine of this size!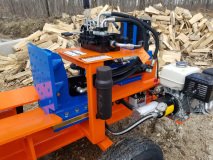 High Performance
This is certainly a log splitter that makes life easy for you. The Eastonmade 12-22 Wood Splitter comes standard with; auto cycle, log lift, six-way wedge, catch pan, oil cooler and electric start. Another useful feature is the fact that wearing parts are easily replaceable.
Eastonmade also offers a range of various conveyors for even more versatility and efficiency.
Road Towable
When you are investing in a high-performance machine it is of utmost importance that you can move from site to site. The Eastonmade 12-22 Wood Splitter comes with roadworthy tyres and a towing hitch each end of the machine. The reason being that often one end of the machine will be blocked off by freshly split logs. In this respect, you have a choice to hitch up from each end, a brilliant idea!
To Conclude
As we know there are all sorts of log splitters available, from a hand axe to foot-operated machines and petrol and diesel machines. I believe that if you have a large number of logs to split the Eastonmade 12-22 Wood Splitter could be a great investment, especially if you're a contractor.
Eastonmade only sells directly, which in some ways is good as you miss out the middleman. If you want to know more about the Eastonmade range of log splitters, here is the link to their website.
Have you had any experience with the Eastonmade wood splitters, please feel free to comment below?