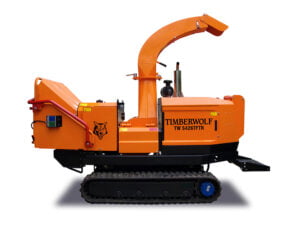 Today we are going to be looking at the Timberwolf S426TFTR Tracked Shredder, a go-anywhere shredder! Over the last few days, we have been looking at a few Timberwolf products. Timberwolf has a range of chippers and shredders to suit almost everyone. The smallest Timberwolf machine and yet powerful is the Timberwolf 13/75G Chipper. Then going right up the scale to the Timberwolf 280TVGTR Chipper that can work on slopes and banks, with ease.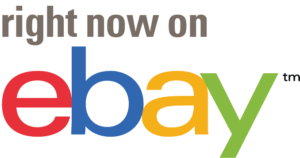 Timberwolf is the U.K.'s number one chipper manufacturer, Timberwolf offers a great parts and dealer network. I guess this is one of the many reasons that they are the number one chipper manufacturer in the UK.
Features
Efficient Kubota turbo diesel engine.
Ride on footplate for operator.
Large infeed capacity.
Ideal for pallets.
High-efficiency shredding.
Anti-wrap design.
Heavy-duty steel forged flails.
Air -assisted discharge chute.
Adjustable discharge chute.
Feed funnel safety curtains.
Excellent parts and service backup.
Three year or optional five-year warranty.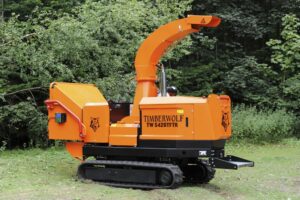 Timberwolf S426TFTR Tracked Shredder
So, let's get back to the Timberwolf S426TFTR Tracked Shredder. This model is almost the same as the Timberwolf S426TDHB Shredder. The model we are looking at today has the benefit of being a go-anywhere tracked machine. So, in other words, you can drive this tracked chipper exactly to the place where you're working, which does have many advantages.
The Timberwolf S426TFTR Tracked Shredder retails around the £50,000 mark including VAT, although I'm sure prices are negotiable. I believe one of the biggest benefits with this shredder is the rubber tracks that enable the machine to almost go anywhere. I also like the fact that the tracked machines offer a very light footprint in terms of pounds per square inch. This Timberwolf shredder can make short work of clearing sites. It becomes very effective working in scrubland and roadside sites, with maximum performance and versatility in one machine.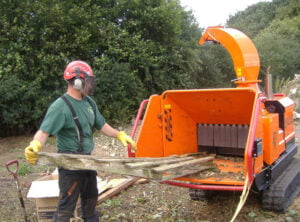 Recycling And Green Waste Reduction
If you're looking for a machine that is effective for the reduction of green waste and recycling the Timberwolf S426TFTR Tracked Shredder, could be your answer. Designed for councils, landscapers, waste management contractors and commercial green waste contractors with a waste problem.
Most importantly, the large oversized feed funnel, allows bulky and awkward material to be quickly processed through the shredder. The large feed intake measures 426 mm x 230 mm, which is large enough to get broken pallets through and much more.
Heavy Duty Steel Hammers (Flails)
The Timberwolf S426TFTR Tracked Shredder looks like a normal wood chipper, it's actually very different inside. Inside the shredder, there are 18 heavy-duty forged steel hammers, in other words, flails. These flails are designed to work in harsh conditions, chopping the waste into small pieces and releasing the waste through the adjustable discharge chute. The discharge chute has an air assist feature which helps to force the green waste through the discharge chute.
The green waste processing is monitored through an electric auto device, this automatically controls the speed of the material going through the machine. This enables the machine to work at maximum capacity without stalling the engine.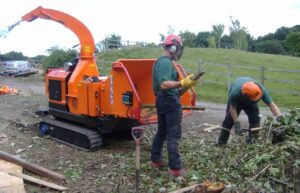 Engine
The Timberwolf S426TFTR Tracked Shredder is powered by a Kubota diesel engine. The Kubota engine is a four-cylinder turbocharged diesel engine.
Over the years I have used many machines that are powered by Kubota diesel engines. I really like their efficiency, quietness and almost vibration-free capabilities. Kubota has an excellent national dealership and parts network.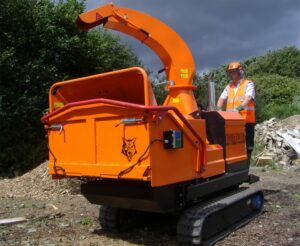 To Conclude
I like the idea of owning a machine that has been well proven. Timberwolf has achieved this by being the top seller of chippers in the UK. It's also good to have a three-year warranty and an optional five-year warranty for peace of mind.
Have you used or owned a Timberwolf S426TFTR Tracked Shredder, would be interesting to hear about your experience. Please feel free to comment in the comments box at the foot of this page.
Specification
Engine

45hp Kubota 4-cylinder turbo engine

Fuel

Diesel

Tank cap.

30 litres (6.5 gallons)

Weight

1840Kg

Length

3100mm (tray up) 3775mm (tray down)

Width

1355mm

Height

2500mm

Maximum diameter infeed

426mm x 230mm

Throughput

Up to 3 tonnes per hour

Feed Method

Hydraulic roller Auto Feed Control/Auto Back off

Blades

18 single form replaceable hammers