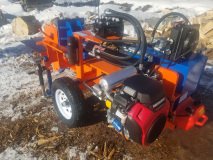 Today we are looking at the Eastonmade 22-28 Wood Splitter, this is Eastonmade's largest log splitter. Yesterday we looked at the Eastonmade Ultra Wood Splitter, which is their basic entry-level machine which is excellent value for money.
If you're looking for a powerful wood splitter then the Eastonmade 22-28 Wood Splitter could be your answer. This machine retails at around $15,000, however, if you are looking for the most powerful and high-performance wood splitter, you have come to the right place.
Eastonmade 22-28 Wood Splitter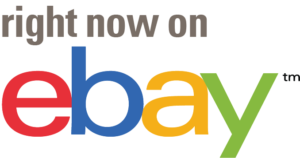 Features
22 hp twin Honda GX series engine.
Electric start.
Full auto cycle.
Log lift.
Lightweight catch pan.
Hydraulic oil cooler.
25-gallon hydraulic tank.
28 gallon per minute hydraulic pump.
Road tyres.
Honda engine three-year warranty.
Two towing hitches. (One each end).
Compact design.
Tremendous Output.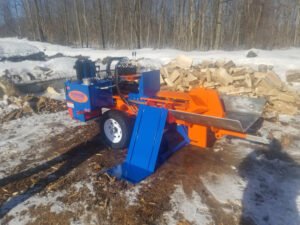 The performance of the Eastonmade 22-28 Wood Splitter really is quite amazing. I have been watching the video of this machine which I have embedded at the foot of this page. With a six-way wedge, splitting wood becomes very easy and quick, I don't think I've seen a wood splitter work so quickly and efficiently.
This machine will cope with any wood that you throw at it, whether its knotted Beechwood or general large logs, it quickly splits through your wood pile. This machine offers a cycle time of six seconds with a 5-inch splitting cylinder. With Eastonmade's wedge design timber is quickly sliced as it travels through the legendary wedge design!
Log Lift
Splitting logs can be hard work even if you have a powered log splitter, however, the Eastonmade 22-28 Wood Splitter comes with a log lift as standard. To me this is a great feature, it minimises the lifting and bending downtime, which can be pretty hard on the back!
Performance
With the six-way wedge, large logs can quickly be split into multiple pieces, making your log pile disappear quickly. This wood splitter comes complete with a catch pan, full auto cycle, electric start and an oil cooler.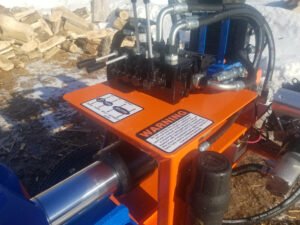 Hydraulics
The powerful hydraulics are backed up with a 28 gallon per minute hydraulic pump. 25 gallons of hydraulic oil and oil cooler to keep your machine running smoothly all day. A 4.5-inch hydraulic ram which offers tremendous splitting power. Eastonmade fits exclusive Galtech hydraulic components which it says outlasts the competitor brands by 10:1, quite an amazing fact!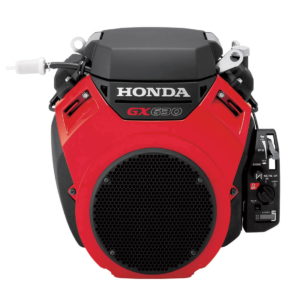 Engine
It's always good to know that if you're buying a piece of equipment is powered by a decent engine. The Eastonmade 22-28 Wood Splitter comes with a 22 hp Honda GX V twin series engine, complete with electric start. The Honda engine has a 9.3:1 compression ratio generates high power output without the need for premium fuel. Honda also offers a standard rev limiter that protects the engine from damage against over-revving. As usual, this two-cylinder Honda engine has low vibration, a 36 blade cooling fan, aluminium pushrods with steel tips, which all adds up to give quieter operation.
Honda engines are many people's preferred choice for horticultural and forestry machines. I know of many people when purchasing a machine will deliberately look to see if the machine is powered by Honda!
To Conclude
I like the idea of having a compact, powerful and well-built machine, the Eastonmade 22-28 Wood Splitter certainly has everything you need in a wood splitter. If you are looking to be in the business of logs, then this is definitely a machine that needs to be looked at.