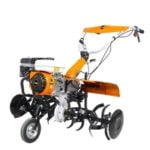 Today we are looking at the Feider Pro garden tiller; this is a petrol garden tiller that quickly eats up the work with a 100 cm working width. I believe this is the widest rotor driven garden tiller that I have come across. This is certainly a tiller that can cover the ground quickly!
The Feider Pro petrol garden tiller is currently on special offer at £799 including VAT, which offers a £100 saving.
Recently we looked at the Racing 139PTIL63-C Petrol Tiller 36cm, a much smaller and compact tiller. The Racing garden tiller is available for £279.95 p offering a saving of £120 on the retail price.
If you're a keen gardener or a professional gardener looking to make life more comfortable in the garden, then a garden tiller can be a great help. Garden tillers are often referred to as, rotavators, garden cultivators, petrol cultivators. They come in different shapes and sizes, my preferred type of machine being the wheel-driven type. The wheel driven type of machine is more expensive but is generally more comfortable to use, and many are more aimed at the professional market. Having said this, we do also have some budget wheeled driven tillers available.
So let's take a closer look at the Feider Pro garden tiller.
Features
A powerful 4 stroke 7 hp petrol engine.
A heavy machine that helps the digging performance.
A maximum digging depth of approximately 160 mm.
Three-speed gearbox plus one reverse gear for manoeuvrability.
Adjustable handles that can be offset.
Comes complete with eight rotors for a 1 m digging width.
Two-year manufacturers warranty for peace of mind.
The Feider Pro Petrol Garden Tiller
I have to say that this is probably the widest rotor driven garden tiller that I have come across. For most gardeners, this petrol garden tiller is probably too wide to use effectively for most jobs. If you have an extra-large vegetable patch, this machine will obviously cover the area very quickly, so it definitely has its uses. I have owned professional machines that vary between 20 and 30 inches wide, approximately 50 to 75 cm wide. It's amazing how much work you can cover even with a 20-inch machine. I really feel that a 3'3″ (1 m) is slightly overkill!
I do not want to put you off purchasing a large machine; I want to be real about it!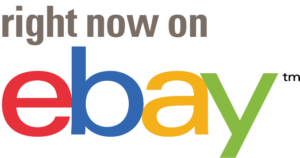 Four Stroke Petrol Engine
With a 212 cc overhead-valve four-stroke Einhill petrol engine, which develops 7 hp, this garden cultivator certainly has plenty of power. With the efficient overhead valve technology, the engine is built to last and for economy. The engine comes with a straightforward recoil start for easy starting.
The four-stroke engine comes with a heavy-duty air filter. I see far too many people not checking that air filter regularly enough. It is of great importance that the air filters are cleaned regularly to keep the engine working efficiently and to give the engine long life. Failure to do this will result in poor engine performance and premature engine wear.
The engine is mounted in a slightly different place to the majority of garden cultivators. Most garden tillers have the engine mounted immediately above the rotors. However, on this Feider rotavator, the engine is mounted in more of a forward position. I guess this is to try to get more forward weight onto the rotors for digging efficiency.
Four Gears
With three forward gears, the Feider Pro garden tiller has a speed to suit almost any conditions. It appears that many manufacturers are adding a reverse gear, this makes the machine so much easier to manoeuvre. Traditionally rotor driven tillers only had one forward speed, this was good for simplicity but not quite so good for manoeuvrability. The reverse gear enables you to get out of tight spaces easily and efficiently and with minimum effort.
Rotors
The Feider Pro garden tiller has a 100 cm digging width, which is exceptionally wide for this machine type. There are a total of eight cutters and 32 tines on this machine, that's quite a few tines!
The depth is controlled by a rear skid that can be adjusted up or down to get the required digging depth. If you are digging hard ground, it pays to go over the ground several times, increasing the depth at every pass. There is no point in trying to force a machine to do too much.
For safe operation, the garden cultivator is fitted with a dead man's handle. In other words, if your hands are removed from the handlebars, the dead man's handle will stop the machine for safety.
Adjustable Handles
It's very important to have adjustable handles on a garden tiller, not only up and down movement, but also from side to side. It's important to be able to adjust the handles for operator comfort. However, it is also a necessary feature to offset the handles so that you are not walking on freshly tilled soil. If the soil is dry, it is not too bad treading on the soil; however, when you are cultivating the soil, it will come up damp and sticky. So it's important not to leave unsightly footprints on your wet soil or to cause soil damage.
Removable Belt Drive
Another one of the Feider tiller features is that it's designed to have a removable belt drive and chain. This is great for easy maintenance and cleaning.
To Conclude
As I mentioned earlier in this post, the machine is probably the widest machine I have seen of this type. I would think for most gardeners this machine is not a practical solution. It's probably worth taking a look at the Oleo-Mac MH175RK Garden Tiller or the Stiga Silex 103B Cultivator, a wheel-driven machine. You can see more of our various garden cultivators here.
Once again I don't want you to put you off this machine if you have a huge vegetable patch, it would certainly cover the ground quickly. French manufacturer Feider does offer good value for money; their machines seem to receive good reviews.
The Feider pro garden cultivator comes with a two-year warranty for peace of mind.
Specification
| | |
| --- | --- |
| Engine Make | Feider |
| Engine Model | 4-stroke Einhell OHV |
| Engine Type | Petrol 4-stroke |
| Engine Capacity | 212 cm³ |
| Engine Power | 7hp |
| Engine Fuel Tank Capacity | 3.6L |
| Oil Tank Capacity | 0.6L |
| Gears | 3 Forward / 1 Reverse |
| Transmission | No |
| Drive | No |
| Working Width | 99-100cm |
| Working Depth | Working depth: 100 mm Maximum working depth: 160 mm |
| No. of Tines | 3-4(8 sets 32Pcs ) |
| R.P.M. of Rotars | 3200 min^-1 |
| Handles | Handlebar height adjusting height and side |
| Wheel Type | Retractable front wheel |
| Sound Level | Guaranteed noise level – 98dB(A |
| Vibration | Left: 6,14m/s2 Right: 5,48 m/s2 K=1,5m/s2 |
| Weight | 98kg |
| Warranty | 2 Years |