I just came across this Kubota four-wheel-drive compact tractor L5040GST for sale, I saw the post on LinkedIn a couple of hours ago. This 52 hp Kubota L5040GST comes with a front three-point linkage, complete with a front power takeoff. A very useful feature indeed. Apparently, there are also a number of implements that would be suitable for this Kubota tractor. Paul can be contacted on 07961314068.
"Here we have one of our machines for sale. This Kubota L5040GST has been service regular and has a front three-point linkage and PTO call Paul on 07961314068 if you are interested. We also have implements i.e. cutters etc for sale."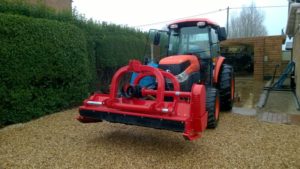 The Kubota L5040GST develops 52 hp and 44 hp at the PTO. It's powered by a four-cylinder 2.434 L Kubota turbocharged diesel engine. The Kubota L5040GST is one of the larger models in the L40 series of tractors. The engine's rated speed is 2600 revs per minute. There are 12 forward speeds and eight speeds for reversing. The maximum speed of the tractor is 15.8 mph, its reverse speed is almost as fast at 15.2 mph!
Front PTO And Linkage
The front PTO and linkage makes the tractor very universal, especially for attaching snow blades and blowers, flail mowers. With a front linkage, it's ideal for the operator to operate machinery much more comfortably, no morning neck aches!