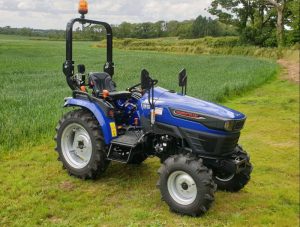 I came across the post on LinkedIn regarding ex-display Farmtrac tractors from £6995 plus VAT. This certainly sounds like excellent value for a Farmtrac compact tractor. Over the past few months, I have added a few posts regarding these compact tractors and the value for money that they offer.
Five Year Warranty
I believe for me that one of the most attractive things regarding the Farmtrac compact tractor is the fact that they have a five-year warranty. Not that many manufacturers offer such a good warranty. Farmtrac also offers service packages etc.; in this way, you know exactly what your expenses are going to be for the next five years.
The Farmtrac Compact Tractor Is Ideal For….
The Farmtrac compact tractor is ideal for landscapers, equine centres, tree surgeons, horticulture and small farms. Farmtrac also offers a battery-powered model, which is something that I didn't know existed until a few weeks ago. This is ideal for someone who is working in a greenhouse and plastic tunnels etc. There is no need to worry about the greenhouse becoming full of diesel fumes!
The battery has around 5 to 6 hours of runtime, depending on the workload put on the compact tractor. This should be more than enough time for growers who are working in plastic tunnels or greenhouses. Of course, the tractor can always be topped up at lunchtime.
If you would like to know more about the special offer on the Farmtrac compact tractors, please call or message Terry on 07538 379411.