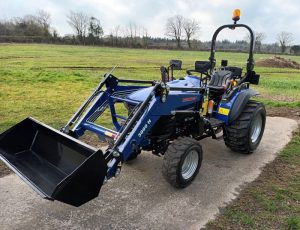 I just came across this special offer on a Farmtrac FT26HST, it looks like good value for money at £12,495 plus VAT. Apparently, the price saving is due to the fact that it has been on display at an indoor agricultural show event. Recently we looked at a special offer on the Farmtrac compact tractors.
The Farmtrac FT26HST comes with three-range hydrostatic transmission. Hydrostatic transmission enables the operator to control the tractor by instant variable speed in forward and reverse, via a foot pedal. For most machinery, it is so much quicker than the traditional gearbox method.
The Farmtrac FT26HST has just 2.8 hours on the clock.
One of the aspects that I really like about this Farmtrac compact tractor is the fact that it comes with a five-year warranty. Whenever I purchase a machine, a good warranty gives me the confidence to purchase. I like the idea of a five-year warranty with no unexpected costs for five years. There aren't that many machines that are covered by a five-year warranty.
Industrial Wheels And Tyres
This particular compact tractor is fitted with an industrial wheel and tyre upgrades. Looking at the photograph, the tyres look quite chunky, which is ideal with the loader attachment.
Front Loader Attachment
This Farmtrac compact tractor comes with a frontloader complete with a self-levelling linkage. It also has a 1.2 m bucket that comes with the foreloader.
To Conclude
The Farmtrac compact certainly offers value for money and they appear to be very popular. I guess with the price and five-year warranty make it very attractive for anyone in the compact tractor market. You can see the original post on LinkedIn below.