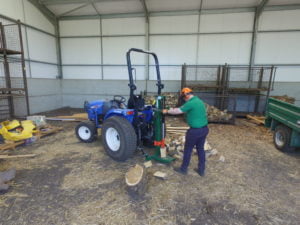 This is just a quick video about the Wessex hydraulic log splitter for a compact tractor. As you can see in the photograph, the Wessex log splitter is designed for a compact tractor. It can also be used on a large tractor with category-one linkage.
The machine is very compact, so it can be stored away in a relatively small space when you're not using the log splitter. Also, weighing just 65 kg, it can be manhandled around with care, if the need arises.
Let's Take A Look At A Few Features
It's a very simple design, which is good; there is no need to overcomplicate. The log splitter does require two-handed operation, this is designed for safety reasons so that hands can be kept clear of any moving parts.
It's good to have a machine that will just slice through logs in one go and be at ease. Providing you have the right tractor with powerful enough hydraulics, the log splitter gives a 10-ton splitting force. I wouldn't recommend a log splitter that is under eight tons in splitting power.
There is an optional larger base for the log splitter, the larger base is ideal if you are splitting larger logs. I would have thought that manufacturers would be better off putting a large base on the log splitter in the first place. The Wessex log splitter comes with one year's warranty when it is purchased new.
Prices
The prices vary slightly for the Wessex log splitter. The cheapest price that I could find was £798, excluding VAT, for a brand-new machine. Most of the prices for the log splitter are around £1000 plus VAT. I do see second-hand machines available from time to time.
If you have any questions, I am here to help, please feel free to leave them in the comments area on YouTube.