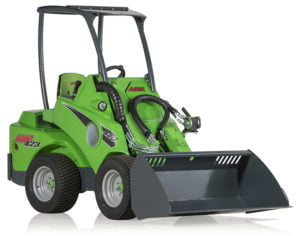 The Avant 400 telescopic loader has been around for some time now. It never fails to amaze me how these compact manoeuvrable machines can save huge amounts of time for landscapers, tree surgeons, horticulturalists and more. I have seen the Avant telescopic loaders used for many different applications. Avant has built up a great reputation for its strength and reliability.
With a low operating weight,  the Avant 400 series loaders are narrow access machines and the smallest diesel model in the range. Despite the small size and low weight of the 400 series, the loader's lifting capacity is remarkable. The Avant can handle 500 kg with ease. The Avant's turning radius is less than two meters, meaning the loader can almost turn in its own length. The minimum machine width is 930 mm. Avant offers a telescopic boom for the 400 series. With the telescopic boom, the lifting height is 2.75 m.
The Avant 400 series' has extremely compact dimensions and excellent manoeuvrability, making it extremely versatile for many different applications, whether it is ground care, agriculture, landscaping, earthmoving, lifting and handling, etc. The machine has plenty of punch, which guarantees the most productive all-year-round work. The 400 series power is adequate for most Avant accessories.
Features
Avant loaders are built to last.
High resale value.
Lift capacity 550 kg.
Kubota 22 hp diesel engine.
Lift height with telescopic boom 2.75 m.
Drive speed 12 km/h.
Straightforward hydraulics.
Easy to transport.
Narrow width machine.
Articulated steer.
Three-year warranty.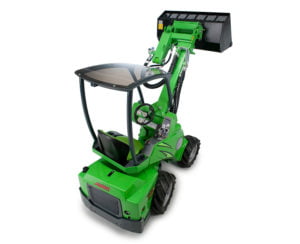 The Adaptable Avant
Avant attachments are designed to work as an equal ally on Avant loaders. The most dependable machine-attachment combination and work productivity can be achieved when an Avant machine is matched with attachments specially designed for the Avant 400. The dimensions, auxiliary hydraulics output, and other Avant characteristics are in perfect balance with the implements.
Avant loaders and attachments are designed for all-year-round use, ensuring that the machine is never lying idle. There are a wide range of options available for the Avant loaders; for example, four different cabs, optional extra work lights, along with the Opticontrol attachment control system. With Avant's technology, it makes the Avant comfortable in the winter cold as well as on a bright summer afternoon.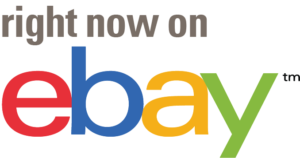 Avant's has a hydraulic multi-connector system for connecting the attachment's hydraulic hoses. This ensures easy and effortless attaching and detaching in any situation with a single hand movement. This can be achieved with the engine running or with pressure in the attachment and in freezing or ambient temperatures. The mechanism is leak-free and designed so that it cannot be attached in the wrong way.
Telescopic Boom
While Avant loaders are produced as compact machines, the agility does not affect the lifting height.
Avant's telescopic boom makes it feasible to have a very compact machine with a significant reach and lift capacity. As with any loader, when the telescopic boom is retracted, it is possible to lift larger loads. With the Avant boom fully extended, the reach and lift height are unparalleled.
On many occasions, it can be possible to load a trailer from one side thanks to the telescopic boom's outreach and still have excellent all-round visibility.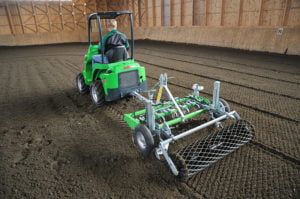 Secure And Stable
Avant's intelligent articulated design where the driver sits in the front chassis and has a complete view of the attachment and work area. With the low centre of gravity, the machine has great stability, especially being such a narrow width machine. Also, the rigid coupling joint which doesn't swing sideways, but increases stability in all situations. It gives the best possible traction that can be achieved thanks to the advanced 4×4 drive system.
Avant loaders come fitted with an open ROPS/FOPS certified cab as standard, and also the optionally enclosed cabs (L, LX, DLX, GT) comply with the ROPS/FOPS standards.
Economical
The Avant has over 200 attachments, Avant has the adaptability to accomplish all kinds of work. Changing the attachment is swift and straightforward thanks to the Avant quick attach system and hydraulic multi-connector. Making the machine very versatile; all sorts of jobs can be carried out by changing the attachment.
The uncomplicated and robust construction, along with high-quality components, makes for easy maintenance. The use of renowned components also helps to decrease maintenance costs.
To Conclude
Over the years I have seen many landscape contractors and tree surgeons make use of these highly manoeuvrable Avant loaders. These machines seem to stand up to hard work exceptionally well and are built to last. I know of machines that are almost 20 years old and still going strong and being used commercially. Avant loaders come with a three-year standard warranty, they obviously trust their machines.
Specification
| | |
| --- | --- |
| LENGTH | 2195 mm |
| WIDTH (23X8.50-12 WHEELS) | 1050 mm* |
| HEIGHT | 1980 mm |
| WEIGHT | 1030-1080 kg |
| STANDARD WHEELS | 23×8.50-12" grass/TR |
| TRANSMISSION, DRIVE | Hydrostatic |
| PULLING FORCE | 700 kp |
| DRIVE SPEED MAX. | 12 km/h |
| AUX. HYDRAULICS OIL FLOW / PRESSURE | 34 l/min 185 bar |
| HYDRAULIC OIL COOLER | standard |
| TURNING RADIUS INSIDE/OUTSIDE | 880 / 1970 mm |
| MAX. LIFTING HEIGHT (WITH TELESCOPIC BOOM) | 2750 mm |
| TIPPING LOAD  | 550 kg |
| ENGINE MAKE AND TYPE | Kubota D902 Stage V |
| ENGINE OUTPUT (ECE R120) | 16 kW (22 hp) |
| MAXIMUM TORQUE | 56 Nm @ 2600 rpm |
| FUEL | Diesel |
| PRODUCT NO: | A424315 |
*) Machine width with the road traffic light kit 1060 mm
WIDTH
| | | |
| --- | --- | --- |
| WHEEL SIZE | PROFILE | MACHINE WIDTH |
| 5.70-12 | tractor | 930 mm* |
| 23 x 8.50 – 12 | tractor or grass | 1050 mm* |
| 23 x 10.50 – 12 | tractor or grass | 1090 mm |