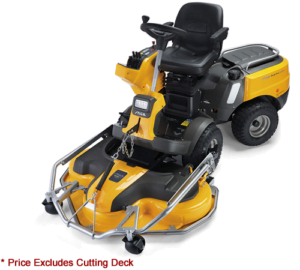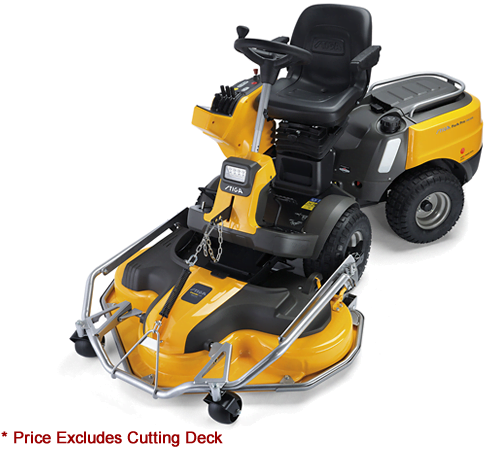 Today we are taking a look at our top of the range Stiga out front mower, the Stiga Park Pro 740 IOX 4WD Out Front Deck Mower. This is a mower that can cut up to 4 to 5 acres with ease and aimed at the professional. The current price of this machine is £9050 which offers a £1329 saving. Just remember that this machine does not come with a cutting deck, there is a choice of mulching decks ranging from 95 cm to 125 cm. The mulching deck prices range from £879-£1449, you can have a basic cutting deck or a pro electric cutter deck.
Over the past week, we have been looking at some of the vast range of Stiga out front mulching mowers. The cheapest Stiga mower is the Stiga Villa 14 HST Out Front Rider, this mower is available for £1960, just remember that you need to also purchase a cutting deck for this machine.
As I have mentioned before in my previous posts I really like the manoeuvrability of the Stiga articulated out front deck mowers. In my view, the articulated steer out front deck mowers is almost most the most manoeuvrable. However, if you want even more manoeuvrability, you can look at our zero-turn range of mowers. The only disadvantage is with the zero turn type of mowers is they are more expensive to purchase than an articulated steer machine.
Features
Fantastic manoeuvrability.
Power steering.
Four-wheel-drive.
Out-front mulching deck.
No grass to collect.
Mulching keeps your grass greener for longer.
Hydrostatic transmission.
Powerful Briggs & Stratton engine.
Quick flip technology to give easy access to the cutting deck.
Hydraulic deck and accessory lift.
Three-year peace of mind warranty.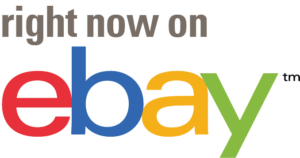 As you know I'm someone who likes to keep things simple and efficient. The Stiga Park Pro 740 IOX 4WD Out Front Deck does exactly this. With the out front mulching deck and the articulated steer, it really makes grass cutting easy and has the added bonus of no grass to collect due to the mulching deck.
Articulated Steering
I have always liked the idea of a lawnmower with an out-front deck, it's far better to cut your grass before any wheels have run down the grass. Combined with the articulated steering feature the Stiga Park Pro 740 IOX 4WD Out Front Deck is a highly manoeuvrable professional machine. The articulated steering enables you to literally cut around trees without having to manoeuvre at all.
Traditional lawn tractors can be slightly cumbersome in the garden especially in tight spaces; however, they have improved over the years. The articulated steering and out-front deck solves the manoeuvrability issue and makes your lawn cutting much more pleasurable and easier.
To make life easier Stiga have made the steering wheel and seat adjustable. The steering is power-assisted which makes light work of manoeuvring your lawnmower.
Hydrostatic Transmission
Traditionally ride-on lawnmowers were controlled by a traditional clutch and gearbox. Today the majority of ride-on mowers are powered by a hydrostatic transmission. Some of the cheaper mowers still have the old-fashioned clutch and gearbox. However, I would never recommend anyone to purchase a machine without hydrostatic transmission. They are slightly more expensive to purchase but the benefits are tremendous in terms of manoeuvrability and ease-of-use.
A machine fitted with hydrostatic transmission is a bit like driving a car with an automatic gearbox. On most hydrostatic machines you normally have a foot pedal or hand lever that gives you instant forward and reverse and instant variable speed in both directions.
It really is a great invention which makes mowing the lawn so much more pleasurable. For example, if you come to a thick area of grass you can slow the machine down quickly, no clutch to depress or gears to change. Once you're through the lush area of grass you can instantly speed up the machine by applying more pressure to the foot pedal, it really is very simple indeed.
Four-Wheel-Drive
The four-wheel-drive always keeps the machine moving. There is no restriction in the turning circle as the articulated steer is different from a traditional four-wheel-drive lawn tractor. If your garden is on a slope or has a tendency to be wet, I would always suggest a four-wheel-drive machine.
Engine
The Stiga Park Pro 740 IOX 4WD Out Front Deck Mower is powered by a powerful Briggs & Stratton 14 kW (18.7 hp) 724 cc four-stroke twin engine. I have used these Briggs & Stratton two-cylinder engines on several machines over the years. They performed well and gave no trouble at all. The great thing about Briggs & Stratton engines is that parts are readily available and sensibly priced.
Mulching Cutting Deck
Traditionally mower cutting decks were designed to throw the grass out the back of the deck or in some cases, the side of the deck. As keeping the grass inside the deck takes power and the idea is to preserve power and get the grass outside the deck. Mulching mowers are the opposite, the idea is to try and keep the grass in the deck for as long as possible to mulch the grass. Mulching deck mowers are also fitted with special blades which assist with the mulching process. It does take a bit more power to mulch but it also saves a lot of time not having to collect grass.
The main advantages of a mulching deck is the fact that there is no grass to collect. This actually speeds up the cutting process considerably as there is no grass collector to empty. Combined with manoeuvrability and no grass collector to empty, in my experience an out-front deck articulated mower is twice as quick than the traditional lawn tractor.
Green Fertiliser
Another added benefit with mulching is the fact that the mulch acts as a green fertiliser keeping your grass greener throughout the year. I have used these mulching mowers in the autumn when the leaves are falling, and they actually make an excellent job of mulching leaves!
The most important thing to remember with a mulching mower is to cut your grass regularly. You cannot leave your grass for three or four weeks in the growing season and expect to have a brilliant mulch. However, if you can cut your grass at least once a week in the growing season your machine will make an excellent job.
Stiga mulching cutting decks have an electric clutch which enables you to engage the cutting deck with a flick of a switch. Always take care when you're engaging the cutting deck, make sure that the engine is running at tick-over speed. In this way, it puts much less strain on the electric clutch and preserves the life of the clutch. I see far too many people engaging electric clutches while the machine is running flat-out, this is not a good practice!
The majority of Stiga mowers are fitted with flip cutting decks. This enables the deck to be cleaned very easily and the blades to be inspected or even changed or sharpened with ease.
Accessories
Stiga makes a range of accessories for their articulated mowers. Accessories include a fertiliser spreader, flail mower, rotary brush, sweeper and more.
To Conclude
I'm often asked what type of ride on mower do I buy and my normal suggestion for most people is an articulated out-front mulching mower. I really like the manoeuvrability and the simplicity that these machines offer. The fact that there is no grass to empty is a real time saver and at the same time, your lawn is receiving a natural fertiliser.
There's also the option of a sweeper should you require, however, in most cases, this will not be necessary as these machines mulch exceptionally well.
The machine comes with a three-year peace of mind warranty which is always an added bonus.
Specification
Starting Method: Key
Engine Brand: Briggs and Stratton
Engine Capacity: 724cc
Cylinders: 2
Net Power Output: 14 kW
Fuel Tank Capacity: 14 Litre
Drive: 4WD
Transmission: Hydrostatic
Max Speed 0 ヨ 14km/ph
Axle Diameter: Front 1 inch Rear 1 inch
Wheels: Front 17 inch Rear 17 inch
Articulated Steering: Yes
Power Assisted Steering: Hydro Piston Servo
Steering Link: Chain/Chain
Steering Ball: Yes
Deck Lift: Hydraulic
Deck Size: 95cm, 100cm, 105cm, 110cm, 125cm.
Height of Cut: 25mm 90mm through 10 positions
Electric Cutting Height Adjustment: Yes Requires Electric Deck
Adjustable Seat: Yes
Cruise Control: No
hour Metre, Lights, Adjustable Steering Wheel: Yes
dB: 100
Dimensions: Length 255cm Width 135cm
Weight: 271kg
Lawn Size: 4 to 5 acre
Warranty: 3 Years
Chassis Warranty: 10 Years