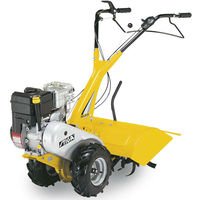 Today we are looking at the Stiga Silex 103B Cultivator, this is a wheeled driven tiller designed to make light work of those heavy jobs. TheStiga Silex 103B Cultivator is currently on special offer at £1139 which is a saving of £110. The price includes VAT.
The Stiga Silex 103B Cultivator is a compact and yet powerful machine ready to tackle all types of cultivation tasks in your garden. The powerful Briggs & Stratton overhead valve engine gives the Stiga Rotavator plenty of power. For flexibility and manoeuvrability, the machine has a three-speed gearbox, making the machine almost effortless to use.
Stiga is a Swedish company that started in business over 80 years ago. They have a vast selection of horticultural products, ranging from mowers, hedge cutters, strimmers and brushcutters, rotavators and more.
Features
A powerful garden cultivator at a decent price.
6.5 hp overhead valve Briggs & Stratton petrol engine.
Two forward and one reverse gear for manoeuvrability and performance.
Pneumatic tyres with optional cast-iron wheels available.
Adjustable handlebars.
Wheel driven tiller for ease of use.
Two-year warranty.
Types Of  Tillers And Rotavators
We are now in February and next month Spring will be upon us. As you know, I'm always looking for ways to make life in the garden easier, over the next few days will be looking at some of our garden tillers. There are basically three types of tillers and cultivators. The first type and my preferred type of rotavators are the wheel-driven types. These machines are driven by the wheels and the rear digging rotors are driven independently. This offers much more control and they are much more user-friendly.
The second type of tiller is the rotor driven type. In other words, there are no wheels to drive the tiller, the rotors actually drive the machine. The speed is controlled by how much weight you apply to the handles and how fast the engine is running. The more you push down on the handles, the deeper the tiller will dig, subject to ground conditions of course. The rotor driven type of tiller is more physical to use, however, it is much easier than using hand tools!
The third type of tillers are the small hoeing machines, as I call them. They can make light work of hoeing between shrubs, perennials and vegetable plants. Being very narrow and compact they are ideal for going up rows of vegetables and keeping your ground free of weeds. In general, these tillers used for digging by simply turning rotors around, which in turn makes the machine dig deeper. They are much more universal than they actually look.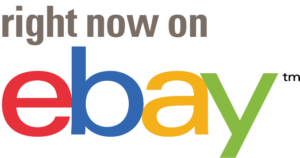 Stiga Silex 103B Cultivator
As I mentioned earlier, the Stiga Silex 103B Cultivator is a wheeled driven machine that makes light work of cultivation tasks in the garden. The two forward speed and one reverse gear make the cultivator very easy to manoeuvre and to adapt to various soil conditions. The rotors are independently driven and the forward speed is determined through the gearbox.
There is an adjustable skid at the rear of the machine which determines the digging depth of the machine. If you require a shallow depth, set your skid to a low setting, this will restrict the machine from digging too deeply into the soil. By adjusting the skid to a higher setting the cultivator will dig deeper. If you are digging hard ground or the soil has not been moved recently, it's advisable to go over the ground multiple times to gently break the soil up.
Three Speed Gearbox
With a three-speed gearbox, including a reverse gear, the Stiga Silex 103B Cultivator can be manoeuvred very easily and effortlessly. If you are digging hard ground, use a low gear. If you are making a spring seedbed and the ground has already had frost on, a higher gear would be more suitable as the soil will break down easily.
Briggs & Stratton Engine
The Stiga Silex 103B Cultivator is powered by the well-proven Briggs & Stratton engine. The Vanguard overhead valve 205cc engine develops 6.5 hp which gives plenty of power. I have owned and used machines with Briggs & Stratton engines for many years. Over time, I have had minimal issues with Briggs & Stratton engines. I like the fact that parts are readily available and sensibly priced, there are Briggs & Stratton agents across the world.
The Briggs & Stratton engine features a transport guard system that automatically shuts off the oil and fuel and ignition during transportation.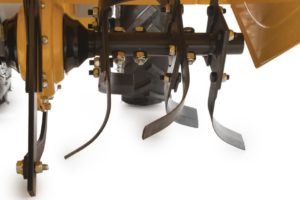 Rotors
With a 60 cm (approximately 24 inches) cultivating width, the Stiga Silex 103B Cultivator will easily fit through a standard garden gate. It is also surprisingly quick on covering the ground, the rotavator doesn't take long to cultivate the average size vegetable patch.
The six rotors which each have four blades on, quickly cultivate the soil, making an excellent seedbed for spring sowing. Using the gearbox and the depth control determines how fine and deep your seedbed will be. There are occasions when a rough finish is needed to overwinter your veg patch.
Rotavators are a very useful tool for reclaiming land. For example, if you want to create a new veg patch or flower border in your garden, a rotavator can quickly transform the area.
The Stiga cultivator is equipped with three-position handlebars, the handlebars can be adjusted to suit the operator. This is also a useful feature as if you're digging deeply you can then raise the handlebars according to every situation.
Accessories
Stiga has a number of popular accessories for Stiga 103 Rotavator. The two most useful accessories are the cast iron wheels which help to give a better grip. The second option is a ridger attachment for baulking up potatoes, a very useful feature indeed.
To Conclude
As I mentioned earlier in this post, I much prefer the wheel-driven rotavators as they are far easier and better to use than the traditional rotor driven machines. £1139 is a good price for a wheeled powered Rotavator, it's amazing how much more you get for your money when you spend a bit more!
The Stiga comes with a two-year manufacturers warranty.
Specification
| | |
| --- | --- |
| Engine Make | Briggs and Stratton |
| Engine Model | Vanguard™ OHV |
| Engine Type | Petrol 4-stroke |
| Engine Capacity | 205cc |
| Engine Power | 6.5hp / 4.8kW |
| Engine Starting System | Recoil |
| Engine Fuel Tank Capacity | 3.8 Litres |
| Transmission | Gears + Chain in Oil Bath and Belt |
| Differential | No |
| Gears | 2 Forward / 1 Reverse |
| Clutch | Yes |
| Handles | Adjustable |
| Power Take Off | Yes |
| Wheel Type | with Pneumatic Tyres |
| Wheel Size | 330mm |