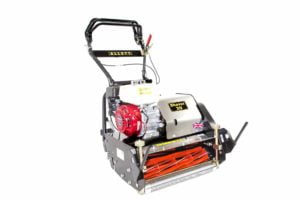 Today we are looking at the Allett Shaver 24 Cylinder Mower, this is a professional mower designed for golf and cricket clubs and bowls clubs. The Allett Shaver is available in 20 and 24-inch models. The 24-inch model is available for £5840.40 including VAT.
Yesterday we looked at the Allett Westminster 20H Petrol Cylinder Mower. A fine British engineered mower designed for long life and an excellent cut. The Allett Westminster is available for £4308.36 which offers a saving of £240. The price includes VAT.
The Allett Shaver 24 Cylinder Mower is a highly specialised mower that is designed for that extra special fine cut. The Shaver 24 would normally be used on areas like golf greens, bowling greens and cricket-wickets. It is not a machine to cut your average lawn with! However, it is a machine that is built and engineered to last for many years. I appreciate that is not a cheap machine, however, investing in a machine like the Allett Shaver 24 Cylinder Mower could give you many years of trouble-free service.
Features
A British built mower engineered for professionals.
24 inch (610 mm) cutting width.
10 bladed cylinder.
Designed for bowling greens, golf greens etc.
Honda 4.8 hp petrol engine.
Adjustable handlebars.
Dual clutches.
Two piece aluminium rear roller.
39 L grass box.
Two year warranty.
Allett Shaver 24 Cylinder Mower
If you're looking for a machine that is well balanced and giving a first class professional finish, then the Allett Shaver could be your answer. As I mentioned earlier, this is a specialised machine for specialised tasks that will give you an excellent bowling green finish.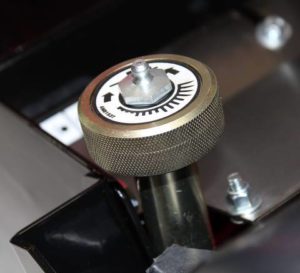 24 Inch And 20 Inch Models Available
The Allett Shaver is available in 24 inch and 20-inch models. The 10 bladed cylinder gives 217 clips per minute which is quite impressive, irrespective of the forward speed. The cutting heights range from 2.4 mm to 19 mm, the cutting height adjuster features the Allett micro-adjustment system.
Independent Clutches
One of the features of the Allett Shaver is the fact that it has independent clutches. In other words, the machine can be moved around areas without engaging the cylinder cutting blade. This ensures smooth and positive control at all times which is very useful when moving around between various grassed areas.
Honda Petrol Engine
The Allett shaver is powered by a reliable Honda petrol engine. The engine develops 4.8 hp at 3600 revs per minute. For many horticulturalists and greenkeepers, the Honda engine is the preferred type of engine. I have had Honda engines on fitted on several machines that I have owned, I have never encountered a problem with the Honda engine. I've actually seen Honda engines left unused for a couple of years and then only to start at first pull. The Honda engine also offers excellent economy and smoothness.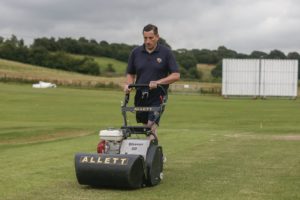 Adjustable Handlebars
With adjustable handlebars and fitted with antivibration mountings makes the Allett Shaver 24 Cylinder Mower a pleasure to use. The handlebars can quickly be adjusted to suit the operator.
To Conclude
The Allett Shaver 24 Cylinder Mower is a specialised machine designed for greenkeepers. I would not recommend this product for the average homeowner as it is highly specialised. You can take a look at our range of cylinder mowers that are better suited for home use and general professional use. If you're looking for something more rugged and adaptable is also worth taking a look at our rear roller rotary mowers. These machines give an excellent striped finish, although not quite so good as a cylinder mower. However, in many cases, a rear roller rotary mower can be much more practical.
The Allett Shaver comes with a two-year manufacturer's warranty.