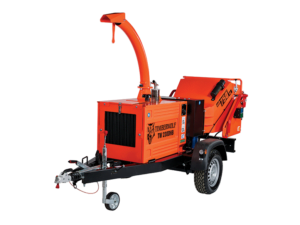 Today we are looking at the commercial Timberwolf TW 230DHB Chipper. Timberwolf is the largest manufacturer of wood chippers in the UK, Timberwolf has been building chippers for over 30 years.
The Timberwolf chippers are built-in Stowmarket, Suffolk, so, living in East Anglia almost every tree surgeon and arborist owns a Timberwolf! The bright orange Timberwolf range is certainly a very common and popular choice for professionals.
Many of the machinery manufacturers are building more petrol machines, rather than diesel machines now. This is due to the emission regulations in the EU. Personally, I would go for a diesel engine machine as the economy is much better. There's also the option to run your woodchipper on red diesel which is almost half price to regular road diesel. Of course, the petrol engine has the advantage of being quieter and the vibrations are considerably reduced overall on the.
Timberwolf TW 230DHB Chipper
The Timberwolf TW 230DHB Chipper is powered by a Kubota diesel engine, with hydraulic feed and a braked road chassis. This Timberwolf woodchipper can manage timber up to 6 inches in diameter.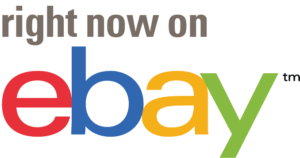 Kubota Diesel Engine
The 35 hp four-cylinder diesel engine gives plenty of power and economy to this woodchipper. Kubota diesel engines have a good name for reliability, over the years I have seen Kubota engines on all different types of machines. The smoothness and quietness is a great plus point for the operator.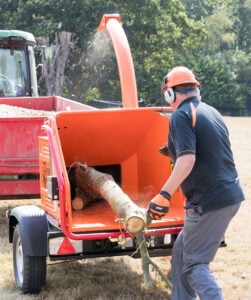 Feed Opening
The large feed opening that measures 230 mm x 160 mm can cope with timber up to 6 inches in diameter. The dual hydraulic rollers have plenty of power to keep the timber flowing through the woodchipper effortlessly.
With a five-ton per hour work rate, the Timberwolf TW 230DHB Chipper will quickly make large piles of branches disappear quickly. I'm not sure how many people it would take to keep this five-ton work rate all day, definitely more than one person!
Blades
Two reversible blades are bolted to a large flywheel that in turn is mounted next to an anvil that then chips the wood. The blades are reversible, which is good news as it lengthens the sharpening time. I would recommend two sets of blades so that you always have a spare set of blades in case of emergency.
It is of utmost importance to keep your blades sharp and to take utmost care of what goes through your wood chipper. Blunt blades put unnecessary workload on any machine, whether it be a woodchipper or lawnmower! I have seen arborists using woodchippers with literally no edge on the blade whatsoever, this is earned an appalling practice! I've also heard of horror stories of angle iron and hammers being put through woodchippers! Obviously, not deliberately but maybe disguised in Ivy or something similar, an expensive mistake!
When the blades are kept sharp the average chip size should be around 18 mm and cleanly cut.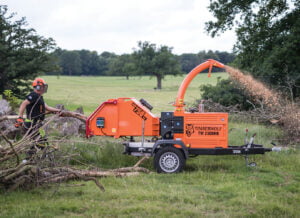 Maintenance
Timberwolf has made the Timberwolf TW 230DHB Chipper very easy to maintain and to carry out the daily checks. Once again, it's very important that these daily checks are carried out. Refer to the owner's manual for the regular maintenance and service schedule.
Five Year Warranty
Timberwolf obviously trusts their machines as they offer an optional five-year warranty. Personally, I would always go for the longest warranty available, I really like to have the peace of mind that I have no extra expenses for five years.
Features
Economical 35 hp four-cylinder Kubota diesel engine.
6-inch diameter timber capacity.
Sub 750 kg towing weight.
Five tons per hour work rate.
Reversible blades (easy access).
Quad force rollers.
Adjustable discharge chute.
Average chip size 18 mm.
Petrol or Diesel?
As I mentioned earlier in this post, many manufacturers are going for petrol engines now due to the EU regulations on emissions. Personally, I would go for a diesel engine in most cases, especially if it's something like a Kubota diesel engine. My experience of Kubota engines has been extremely good, I would recommend Kubota diesel engines.
Let me give you an example of cost between running a petrol and diesel machine. I have a diesel stump grinder which costs about £30 per day to run on diesel, this is literally using the machine for 8 to 10 hours continuously or almost continuously. The equivalent petrol machines use around £100 worth of fuel per day! Over the course of a week or month the cost of mounts up hugely. Over a one-month period this could be for an average user, £1200 for petrol and £360 for diesel, a huge difference!
To Conclude
I always like to own a machine that is reliable and has a good dealer network and parts network. Timberwolf offers this and with the five-year warranty, I don't think you can go too far wrong. I know that Timberwolf chippers are certainly very popular where I live.
Specification
Engine

Kubota 35hp 4-cylinder engine

Fuel

Diesel

Tank capacity.

18 litres (4 gallons)

Weight

749kg

Length

3285mm (tray up) 3810mm (tray down)

Width

1520mm

Height

2220mm

Max dia. infeed

160mm

Throughput

Up to 5 tonnes per hour

Feed Method

Twin hydraulic rollers c/w Auto Feed Control

Blades

2 x 135mm Double-sided, fully hardened