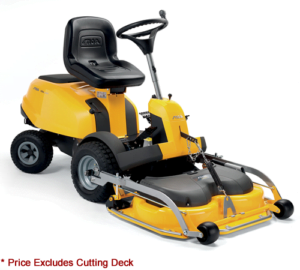 Today we are looking at one of the most manoeuvrable types of mower on the market, the Stiga Villa 14 HST Out Front Rider. Recently we looked at the Oleo-Mac MH175RK Front-Tine Tiller, a time-saving machine with excellent reviews.
Lawnmowers come in all shapes, sizes and types. To my mind, a mower with an out-front deck and articulated steer is almost the most manoeuvrable ride-on lawnmower on the market. I would say that the most manoeuvrable type of ride-on lawnmower is a zero turn machine, will take a look at zero turn mowers another day.
The biggest issue with ride-on mowers is that they can be cumbersome and not particularly manoeuvrable when it comes to tight spaces and cutting around obstacles. The Stiga Villa 14 HST Out Front Rider overcomes this issue with its out-front deck and articulated steer. Being a mulching mower there are no grass bags or collector to empty, you can just keep on mowing.
Features
One of the most manoeuvrable ride-on mowers on the market.
No grass clippings to collect.
Mulching keeps your grass greener.
Powered by Briggs & Stratton 10hp engine.
Electric start.
Two cutting deck sizes.
Accessories are available.
Three-year warranty.
A ride on mower can be an excellent tool to speed up your mowing time in larger gardens. Over the years ride-on mowers have improved considerably, with the introduction of hydrostatic drive and more manoeuvrable models. My biggest gripe with ride-on lawnmowers has been the underslung deck on lawn tractors and the lack of manoeuvrability. The Stiga Villa 14 HST Out Front Rider changes this due to the out-front deck and the articulated steer. I would always recommend an out-front deck where possible, I know that this is more difficult with machines that collect. However, it's good to mow your grass before any wheel touches your lawn to stop any grass being laid down.
Manoeuvrability
As I mentioned earlier in this post, articulated mowers with an out-front deck really do offer excellent manoeuvrability. It makes grass cutting an absolute pleasure as you can literally mow around trees, borders and obstacles with absolute ease. The work rate of these articulated machines is considerably quicker than a traditional lawn tractor due to the articulated steer.
Mulching Ability
There is no need for a collector on these machines as they have a cutting deck that is designed for mulching. With a mulching mower the grass is kept inside the cutting deck for longer which enables the blades to chop the grass into small pieces. The mulched grass, in turn, acts as a green manure to keep your lawn looking healthy all year round.
In an ideal world you need to cut your grass on a regular basis. In other words, I would say at least once a week to reap the benefits of mulching. You cannot leave your grass for three or four weeks in the growing season and then expect grass to mulch properly. However, I am highly impressed with the mulching ability of these machines.
Cutting Deck
There are two mulching cutting decks available for the Stiga Villa 14 HST Out Front Rider. The smallest being a 85 cm deck or the larger 95 cm deck, the decks are purchased separately. The two cutting decks have manual height adjustment and manual deck lift.
Engine
The Stiga Villa 14 HST Out Front Rider is powered by a Briggs & Stratton 4 stroke petrol engine. The 3130 AVS 344 cc engine develops 7.4 kW (approximately 10 hp) at a maximum of 3200 rpm. The air-cooled engine has electric key starting.
Transmission
With hydrostatic transmission which offers instant forward and reverse and variable speeds on one-foot pedal makes the Stiga Villa 14 HST Out Front Rider very easy to use. Hydrostatic transmission works through an oil pump that is attached to the engine. In turn this powers the hydraulic motor that drives the front wheels of your mower. On the larger machines, which will be looking at soon four-wheel-drive is available.
Accessories
Stiga offers a range of various accessories for their out front range of mowers. These range from a trailer, fertiliser spreader, snow blade, sweeper and more. It's always good to use your ride on mower for other chores around the garden.
To Conclude
I really like the idea of the out-front deck and articulated steer principle. The Stiga Villa 14 HST Out Front Rider really is a manoeuvrable mower that makes lawn cutting much more pleasurable.
Mulching is a great way to save time cutting your lawn as there is no collector to empty. I also like the fact that mulching is like adding a green manure or fertiliser to your lawn. Just remember that for good quality mulching you need to cut regularly for the best effect.
Stiga offer a three-year peace of mind warranty on this particular machine and 10 years on the chassis.
Specifications
Engine : Briggs & Stratton PowerBuilt 3130 AVS
Cylinders/Output : 1/7.5kw
Capacity : 344cc
Transmission : Hydrostatic
Drive : Front Wheel Drive
Starter : Key start
Fuel Tank Capacity : 3.8 litres
Steering : Rear Wheel
Steering Linkage : Wire / Wire
Deck Lift : Mechanical
Cutting Width : 85cm or 95cm
Height of Cut : 10 positions from 25-85mm manual adjustment
Foot Operated Deck Lift : Yes
Wheels : Front – 16″, Rear – 13″
Overall Length : 200cm
Overall Width : 100cm
Approx Weight : 171kg
Manufacturer's 3 Year Machine warranty (10 year chassis)